Federation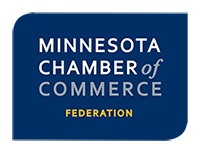 Legislators take notice when our 2,400 members speak in unison. Our advocacy is further bolstered by our 30-plus partners who are unified as the Minnesota Chamber Federation – local chambers of commerce that adopt and advocate for your top legislative priorities. With their support, we truly are the statewide voice of business.
Minnesota Chamber of Commerce Executives (MCCE)
MCCE, a program managed by the Minnesota Chamber, advances the effectiveness of chamber professionals. We provide career development, communications and networking to ensure professional and organizational growth. For more information, visit www.mnchamberexecutives.com.
2018 Federation Partners